"Nourishing our community through engaged relationships, one customer at a time."
Our menu has been crafted using excellent quality, fresh, house-made foods.We support local and/or organic suppliers whenever possible and we strive towards earth friendly sustainable practices. You will be glad that you stopped by!
We have the greatest team in the universe and we appreciate our customers more than anything, as YOU are the backbone of this café. We are so grateful to each of you for your support and for your contributions to our wonderful place!
Monica and Mark Downen, At Your Service
***************
Pre-purchase a pizza night certificates to save $$!


It's the exclusive club:

MVP-Monica's Valued PizzaLover!
CHECK OUT PIZZA NIGHT HERE
Purchase your certificate(s) no later than Wednesday November 22, and receive your choice of pizzas at the Pop Up Pizza Parlor for the discounted price of $16.
There is no limit to how many you may purchase. Each certificate is good for the Pop Up Pizzeria only; eat-in or take-away. It does not cover tax or tip; there is no cash value, no cash back, and no refunds. This is a discounted price only offered with this certificate.
CERTIFICATES ARE NOT REQUIRED TO ENJOY OUR PIZZA PARLOR. We do accept reservations, though they are not required, either.
***************
It's time to order your Thanksgiving meal and treats!
Did you know that we can provide part, or all, of your Thanksgiving dinner?
CHECK OUT OUR THANKSGIVING MENU/ORDER FORM HERE
THANKSGIVING FAQs:
(all prices are before tax and service)
• WHOLE TURKEYS (NW Naturals) are $50; each will weigh approximately 15 lbs we only have 2 left!
• We also offer TURKEY BREAST ROAST for $4 per person; moist and delicious-
these may be ordered
ala-carte, or you may order the whole meal-see the menu for details
• PREMIUM HAMS (boneless) are $55 each, and weigh approximately 6.5 lbs
• ALA-CARTE SIDES:
o Rustic mashed potatoes & gravy $2.99 per person
o Monica's Cranberry-cherry compote $1.50 pp
o Savory bread pudding (aka 'stuffing') $2.99 pp
o Roasted green beans (or other vegetable) $1.50 pp
• YES we can do other things that are not listed, just ask!
• YES you may choose a different day, prior to Thanksgiving Eve, to order any of these items
• ALL TURKEY ORDERS MUST BE IN NO LATER THAN Friday November 17
• ALL TURKEY BREAST AND HAM ORDERS must be in no later than Monday November 20
• ALL PIES and most other orders must be in by Monday November 20
• While we will have bread, rolls, pies and other items available for walk-ins on Wednesday November 22, we will not allow 'holds', purchases are first-come = first-served
• Don't forget to order your appetizers and desserts!
• We also offer quiche, frittata, fresh pastries, etc… for breakfast, brunch, or dinner on Thanksgiving and the day after!
Feel free to call us with any other questions you may have! Your orders are always sent with heating instructions and a 100% satisfaction guarantee
CHECK OUT OUR THANKSGIVING MENU/ORDER FORM HERE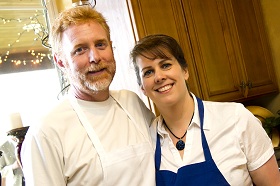 The Holidays Are Coming!
Save money and time by celebrating this holiday season with Monica's Waterfront Bakery & Cafe Catering!
We will make your event FABULOUS!
Your Place or Ours – Casual or Elegant – Business, Family or Friends – Breakfast, Lunch, or Dinner – And of course: Parties of all kinds!
Our Custom Catering will honor your personal tastes and needs.
We have superb options that are vegetarian, vegan, gluten-free and more. It is our job to relieve you of the many stresses that can go along with hosting any event so that you can thoroughly enjoy yourself, along with your guests.
All your Culinary Needs!
Holidays, Parties, Business Meetings, Private/Group Cooking Classes, Showers, Thank You Baskets, Gift Bags, Wine Receptions, Weddings, Afternoon-Tea Parties, Picnic Baskets, Buffets, Served and Family Style Sit- Down Meals, Handmade Candies, and whatever else you may think of.
Don't See What You Need?
Our recipe collection is extensive and there is so much that we can do for you to make your life easier. We are happy to tailor the details to fit your needs and to work with you to ensure that your event reflects your own tastes and personal touches.
All the food at Monica's is made fresh by us.
You will have the very best in quality and service, every time we feed you. Our passion is giving fresh food our creative touch to present you with dishes that you can be proud of. You get Custom Menu Design from gourmet boxed lunches to formal dinners with wine or beer pairings, and everything else. We are delighted to partner with you, and/or guide you through, the process of selecting and personalizing your menu, with your budget as our rule.
Your Satisfaction is Our Guarantee
We will always ensure that you are advised of, and agree to, all details, policies, charges & fees before the date of your catered event or special order. If you aren't happy, we will make it right, whatever it takes.
Email Monica or give us a call for any information you need.