"Nourishing our community through engaged relationships, one customer at a time."
Our menu has been crafted using excellent quality, fresh, house-made foods.We support local and/or organic suppliers whenever possible and we strive towards earth friendly sustainable practices. You will be glad that you stopped by!
We have the greatest team in the universe and we appreciate our customers more than anything, as YOU are the backbone of this café.
We are so grateful to each of you for your ongoing support and for your contributions to this wonderful place!
Monica and Mark Downen, At Your Service
***************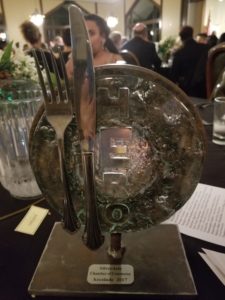 2010 AND 2017 Silverdale Chamber of Commerce
BUSINESS OF THE YEAR!
Thank you to every one of you for this great honor!

******************
Join us at the boat launch Saturday December 15, 7:30-9 pm to watch the beautiful holiday themed lighted boats! We will be giving away Santa's favorite cookies and hot cocoa, there will be a bonfire, and if there are no emergencies around that time we will have Fire fighters, fire trucks, police officers and their cars for the kids of all ages to play with. It's always a lovely evening enjoying our community!
the boats are usually in the area around 8:30 pm
******************
Click HERE for a look at our Daily Menu
OR download HERE


******************