A Cafe in Silverdale, Nourishing our community!
We have the greatest team in the universe and we appreciate our customers above all; YOU are the backbone of this café.
Thank you very much for your support and contributions to this wonderful place!
We prepare our made-from-scratch menu with fresh ingredients. We support local and organic suppliers; in addition we strive towards earth friendly practices. You'll be glad you stopped by!
Monica and Mark Downen, At Your Service
***************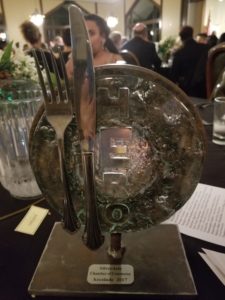 2010 AND 2017 Silverdale Chamber of Commerce
BUSINESS OF THE YEAR!
Thank you to every one of you for this great honor!

Our Conversation Heart Cookies are the most delicious way to say …whatever you want! Especially since they aren't producing the Conversation Hearts candies this year! We frost and decorate, or put cute sayings on them for you, or you can preorder your personalized cookie and we do it your way. We also have single & double heart cookies dipped in chocolate, heart-shaped linzer tarts, heart-shaped cake truffles & buckeyes, Appetizer grazing boxes, and more treats: perfect to share, or to treat yourself!
PLUS We have special boxes put together for your gifting pleasure! Whether you celebrate Valentines, Galentines, Palentines or have any other reason to treat your loved ones, or yourself.
We can also make a lovely, customized gift for you with our pretty boxes, and we also have Sparkling and still wines!
We heart you!
******************

VALENTINE'S DAY, SCHMALENTINE'S DAY!
We believe in showing our love every day and we KNOW you deserve that! So for the entire month of February we have a Sweet Deal for you to share with someone else, or with your self. Either way you are showing your love to someone special!
A fabulous gourmet meal at home: Dinner for 2 to go!
2 pieces of Quiche OR Monica's famous Salt & Pepper Roast Chicken,
2 Green, Greek, or Caesar salads, 2 freshly baked rolls with butter, AND Dessert for $34.99!
Add a Bottle of wine to this deal and get 10% off the bottle price! (or 2 or more of our local beers!)
The fine print:(no substitutions; crab quiche adds $1.50 each; You MUST pre-order the chicken by 24 hours, otherwise pre-orders are strongly encouraged to assure you get what you want in your order; offered through Feb. 28, only)
******************
Click HERE to see our Daily Menu
Similarly, download HERE


******************